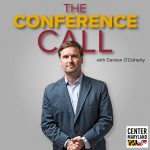 Partner at KO Public Affairs, Beth Levine has a unique resume with 16 years leading communications efforts for U.S. Senator Chuck Grassley and the Senate Judiciary Committee. Levine's career with the Senate Judiciary was capped off with her at the helm of communications surrounding the Gorsuch nomination.
Beth has an extraordinary wealth of knowledge and insight that is incredibly relevant today and we're excited to have the opportunity to bring her on today.
Join us for a retelling of the Merrick Garland and Justice Gorsuch nomination processes from the perspective of Senate Republicans, and what's to come in the nomination of Judge Amy Coney Barrett. We will be periodically checking in with Beth over the course of the nomination process.
Podcast Music by Dillon O'Brian